50040 PHYSIOTHERAPHY -
LEVEL: Associate's Degree, TYYÇ: Level 5, EQF-LLL: Level 5, QF-EHEA: Short Cycle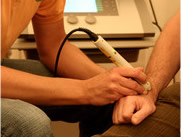 Aim
1
Physiotherapy Program of Vocational School of Health Services aims to train auxiliary health personnel who are intensely felt in Physical Therapy Rehabilitation clinics, special branch centers and especially SPA / thermal facilities.
2
It is the training of technical professionals responsible for the preparation, use, and control of the devices in the applications to be performed in the physiotherapy and rehabilitation clinics.
Objectives
1
To train health personnel equipped with the knowledge and skills necessary for conducting physical therapy procedures in health institutions, physical therapy units, and the private sector.
2
To increase the standards of students and quality of education by following all kinds of innovations and developments in their field and thus to maximize the profession.